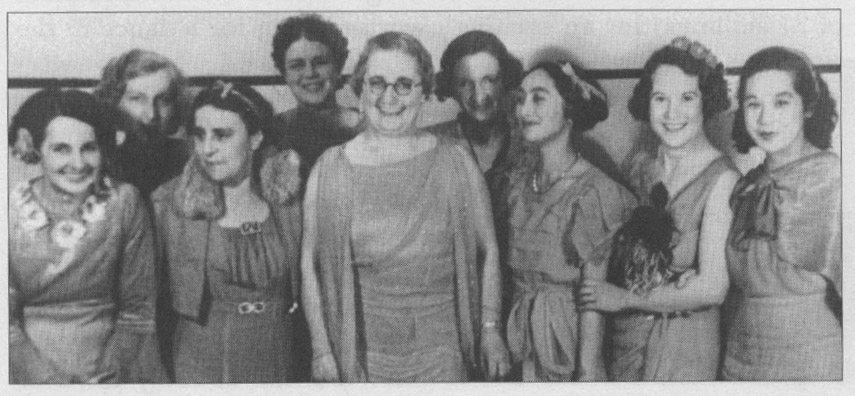 Eve Rees and her Merrymakers were an all-female dance band from Australia. They were very popular, touring extensively in rural and city Australia in the 1920s and to a lesser extent in the 1930s. Despite their popularity, it's hard to discover much about them. A dodgy Trove search gives only three hits, and much of what I've found comes from books. I know! Today is World Book Day, so it's appropriate It is not actually world book day, but that's ok – we shouldn't wait for WBD to read books :D . In fact, this image (of Eve Rees and her Merrymakers, including Grace Funston, Alice Dolphin, Marion de Saxe, Eve Rees (middle aged woman in centre), Stella Funston, Alma Quon, Gwen Mitchell and Lorna Quon) is taken from the book I'm about to discuss.
I totally forgot to do a post yesterday (yeah, yeah, whatever), so today is something special. A dear friend of mine, Corinne, gave me this book a few years ago:
(Sweethearts of Rhythm: the story of Australia's all-girl bands and orchestras to the end of the second world war by Kay Dreyfus (Currency Press, Sydney, 1999))
It's all about Australian all-women bands during the wars. The most famous of these sorts of bands is of course the American International Sweethearts of Rhythm. But there were actually heaps and heaps of these all-women bands in Australia and other countries. Mostly because so many men left for war there simply weren't enough left behind to fill all the bands playing for the hundreds and hundreds of live music venues all over Australia. Remember, dancing was one of the most important popular entertainments during this period.
2CH Christmas party, Trocadero, 15 December 1937, originally uploaded by State Library of New South Wales collection.
But all-women bands also served as titillation for male audience members, and initially as novelty acts for the broader community. Despite these issues, there is no doubting the competency of many of the all-women bands during the jazz and swing eras. After all, the mainstream jazz industry neglected 50% of the musicians on the basis of their sex, so 50% of that population were available for work when the labour pool shrunk.
Eve Rees and Merrymakers were one of the better known Australian all-women bands, managed by Rees, a capable and energetic business woman. Dreyfus quotes Alice Dolphin (who went on to lead her own bands):
The Merrymakers' dance band at that time was extremely popular and I was invited to join them. The leader of the band was Mrs Evelyn Rees, a charming middle-aged woman who was well-liked everywhere we went. She was just ideal for the job.

What a tremendous amount of work we got! Every night, Mayoral balls, Country Women's Association dances and balls (this of course meant travelling to country towns), Cafes, Lodges, Clubs, Weddings, Birthday parties, Jewish Greek and Chinese dances, Bar Mitzvahs, twenty first birthday parties and just parties, Military and Air Force dances and receptions of all kinds.
There's more to be read about the Merrymakers in Dreyfus' book, and I recommend picking it up.
References
You can read about the popularity of cinema and dancing in: Matthews, JJ, Dance Hall & Picture Palace : Sydney's Romance with Modernity, (Sydney: Currency Press, 2005).
The Jeannie On Jazz blog proved useful in putting together this post.
Dreyfus has also written 'The Foreigner, the Musicians' Union, and the State in 1920s Australia: A Nexus of Conflict' an interesting article about the role of the musicians' union in the banning/boycotting of 'foreign' (ie non-British, ie non-white) musicians. This of course is relevant to recent talk about the Sonny Clay band and its role in provoking the ban on black musicians. And the Sonny Clay band was mentioned in the latest (third) episode of the Miss Fisher's Murder Mysteries' abc tv series set in the 1920s.