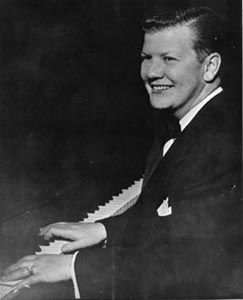 (image lifted from wikipedia)
I'd never heard of pianist, composer, bandleader Billy Tipton before I was sent an email recommending him for this series of posts (I'll leave that kind correspondent to out themselves in the comments if they like.) Everything I know, I've scrounged online.
Basically, Billy Tipton was born Dorothy Lucille Tipton in 1911, and was a keen pianist interested in a life in jazz. By 1940 he was living as a man, binding his breasts and otherwise dressing and identifying as male. It wasn't until he died in 1989 that Tipton's family discovered he was assigned female at birth.
I don't know the exact reasons for Tipton's living as a man, but I want to include him in these Women's History Month posts because he draws attention to the limits of single definitions of masculine and feminine. And one of the clearest points to be made about Tipton's story is that living as a woman musician limited (and limits today) your profesional opportunities.