To whom it may concern,
As we all know, Ashfield's main shopping strip down Liverpool Road favours the pedestrian, and parking a car is not for the faint of heart. I ride a bicycle and walk through Ashfield every day, grocery shopping and running errands.
When I ride my bike, I like to lock it up just outside the shop or business I'm patronising. It's safest for my bike to be parked in a well-trafficked, highly visible public place. But it also needs to be somewhere it won't impede pedestrians. It needs to be attached to a high, stable, secure structure that won't damage it or break easily.
At the moment there is only one bike 'loop' in the little alcove near the Commonwealth bank atm, at the front of the Ashfield Mall. Bike loops look like this: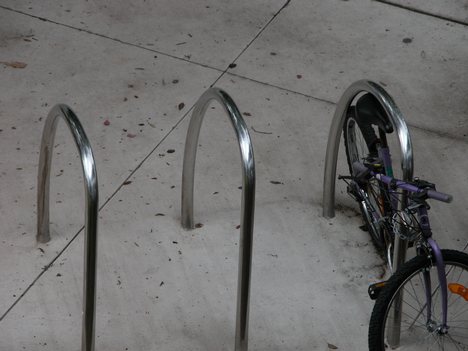 (source)
There is a bike 'rack' attached to the wall, but this rack is often full of bikes, and is – more importantly – not kind to my bike. Inserting the front wheel of a bike into the 'slot' is a good way to buckle your tire – the weight of your bike, knocked or pushed or falling to one side – will cause the tire (gripped by the rack) to bend. So I avoid this type of bike rack. This rack also requires either an exceptionally long bike lock, or a willingness to lock only your front tire to the rack. I like my entire bike to still be there when I return with my groceries, and my bike lock is, sadly, only of ordinary length.
We really need new bike racks in the Ashfield shopping area. The huge, barren, concrete wasteland in front of the new Council building would be an excellent place for a series of bike 'loops', or even – most excitingly! – some well-designed bike racks which could serve as public art as well practical tools for encouraging motorists off the road and onto their bikes. Luckily, the Powerhouse Museum has already conducted a competition for well-designed bike racks.
I am particularly fond of this one, and think it would be the perfect way to populate that space I mentioned: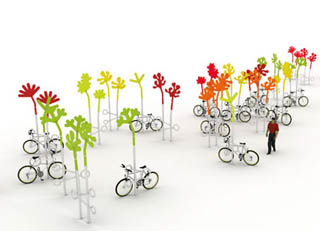 (Chris Smith and Toby McInnes' entry 'Quale'; source)
I await your response to my suggestion with great anticipation,
Yours sincerely,
dogpossum,
Ashfield home owner and resident,
Cyclist.
[I'm experimenting with form and tone.]