All that talk about neo swing in that last blog post has had me thinking about zoot suits.
There's lots of bullshit 'scholarship' around about zoot suits. The best thing I've ever read about them was a book chapter called "The Right to the City in Los Angeles: Discourse and Practice of a Chicano Alternative Public Sphere" by Raul H. Villa in the book Masses, classes and the public sphere edited by Mike Hill and Warren Montag (2000) (on Google Books).
One of the worst things I've ever read was Stuart Cosgrove's article "The Zoot Suit and Style Warfare" in Angela McRobbie's edited collection Zoot Suits and Second-Hand Dresses: An Anthology of Fashion and Music (1989). I know it's a bit of a big call, picking on Cosgrove. But that article is wrongity wrongtown. In so many ways. I haven't read it in a while, though, so I could be completely mistaken. I just remember it being scarily inaccurate. McRobbie's talk about second hand dresses in the 80s is a lot more useful.
What is a zoot suit?
This article 'The Zoot Suit Riots' (from Manong: The Story of Raymond G. Perla
Photographs and storys from the Manong Generation) isn't such a bad place to start for a description of the actual item of clothing. Basically, they were really big suits, using lots of fabric, which were popular with some latino/chicano youth in Los Angeles during the second world war. Using lots of fabric was kind of shocking in a time of wartime austerity. Of course, race and ethnicity are the most important parts of this story.
What did a zoot suit look like?
This is a picture of Edward James Olmos in the 1981 film film Zoot Suit: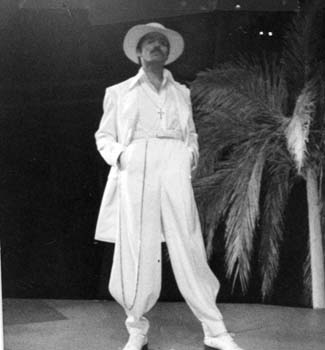 That film was strange sort of musical. You can find interesting bits of it on Youtube – search. But that's an 80s version of the zoot suit. Here's a cool photo of some bloke with Katherine Dunham in 1943. He's not wearing a zoot suit, but he's in a pose which looks a lot like a 'pimp walk', a key jazz step associated with zoot suits, pimps and swaggering cool. He may have mad skills and be super cool, but he's not wearing a zoot suit.
Here's a funny photo of Spike Lee (left) and Denzel Washington (right) in Lee's 1992 film Malcolm X: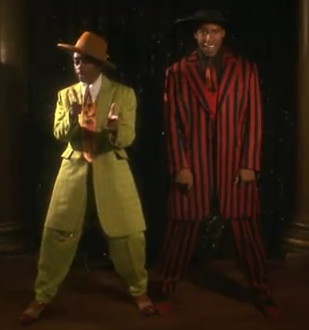 Even better, watch them strutting, pimp-walk style in one of the early scenes of the film here. Malcolm X's autobiography has some interesting things to say about young black American men and zoot suits. Spike Lee's film is interesting because so many hardcore totally legit and awesome lindy hoppers were involved in its production, including Frankie Manning and Norma Miller. The dance scene from the film was really influential in the burgeoning swing dance scene at the time. Enjoy the dubbing:
Lee specifically intended to have the film pay homage to the greatest lindy hoppers of the original period: the Whitey's Lindy Hoppers, Frankie Manning, Norma Mmiller and so on. The dance scene from Malcolm X itself echoes iconic music and dance film sequences from the original swing era. You have only to compare that dance scene with the Jitterbug Contest from Keep Punchin'.
…but anyway, I was talking about zoot suits. Yeah, yeah, Malcolm X is good stuff. But it's not really getting to the heart of the matter. Where are those Chicanos Villa talks about his fascinating story about Los Angeles?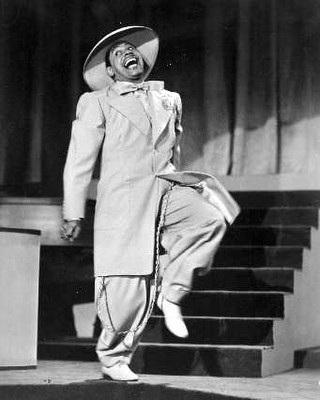 That's Cab Calloway. But by the time this photo was taken, he was majorly famous. So he's not really representing subversive public spheres… or is he? Look, I can't really explore that here, but it's worth thinking about Cab Calloway, ethnicity, race, the Cotton Club and performing identity.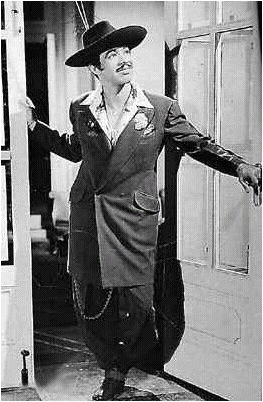 That's a picture of Mexican star Tin Tan in 1945. I found it here on this interesting page about zoot suits. That page is actually part of a research guide discussing the play and film Zoot Suit. The play Zoot Suit premiered in LA in 1978 and was released as a film in 1981, "the first Chicano written, performed and directed feature length film in history" (to quote the site).
It's also interesting to read Ephemeral New York blog post about vintage clothes in New York in the 80s. Forties and thirties fashion was kind of getting a reboot in the 80s (you can see it a bit in films like Desperately Seeking Susan and Pretty in Pink).
Wait. What has all this got to do with lindy hop today. WHY are the white 'swing dancers' in Sydney STILL wearing zoot suits?
Ok, so it's the 80s, right. You've looked at that stuff I've just linked. Now, in the 80s, lindy hop starts getting a bit of a revival. Young American, British and European (Sweden!) dancers start hunting down living dancers from the 30s and 40s. You can watch a really cool interview with Al Minns, where he talks about the Swedes' approaching him. In 1989 the band Royal Crown Revue is formed by Eddie Nichols, punk and son of a jazz singer.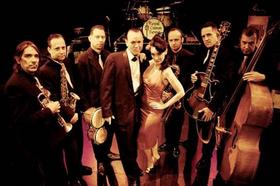 Neo swing is getting started. It has its roots in punk, ska, rock and roll. That's where I remember it starting – my friends' punk bands were support acts for visiting American bands like Royal Crown Revue, Cherry Poppin' Daddies, Brian Setzer, Squirrel Nut Zippers, etc etc etc.
Ok, now it's the 1990s. The film Swing Kids is released in 1993, Swingers in 1996. Lindy hop has gone mainstream. At least in America. In 1998 Gap release this ad for khakis. If Gap are using swing dancing for ads, you know it's mainstream. I start dancing lindy hop in Brisbane in 1998, only a little while after classes started there. But it'd been in Sydney for a little while already. It'd only just started happening in Melbourne. We have the rock n roll and latin dance scenes to blame for lindy hop's popularity in Sydney and Melbourne, and the influence of immigrant Brits.
Yeah, yeah, ZOOT SUITS?!
In 1997 the Cherry Poppin' Daddies release a song called 'Zoot Suit Riot'. It supposedly has something to do with the zoot suit riots.
Who's your daddy? Yes I am.
I'm sure LA lindy hoppers watching that video can see lots of famous names and people. But when I watch that clip, all I can hear is the song, and all I can see is the first dance performance I did in public. ARGH. MY EARS.
And at the time, all those bright suits and big hats and black and white shoes had indy cred. That stuff was cool.
[EDIT: This is one of a number of loosely-associated posts about music in Sydney lindy hop today. This list includes:
]
[Edit 18/11/11: A nice little article about a Vintage Zoot Suit Auctioned for nearly $80K was posted to Yehoodi this week.]