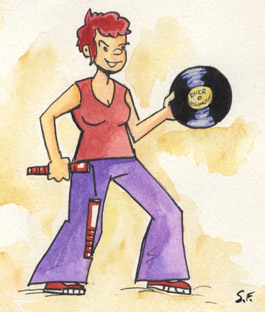 About my DJing
I started dancing in Brisbane, Australia in about 1998, then moved to Melbourne where I started DJing in 2005. Now I live in Sydney where I DJ mostly for lindy hoppers and blues dancers. I do the odd large camp or exchange in other cities during the year, but mostly I play at local events for local dancers. I like organising dance events, and I've just discovered that I love performing. It's a pity that I haven't also discovered that I have a natural talent for performing, but I figure enthusiasm and shouting will suffice where grace and ability fall short.
I like hot jazz and swing music from the 1920s, 30s and 40s, but I also really like modern bands who recreate the sounds of those periods. I also have a shocking memory, so I'm always pleasantly surprised when I ask a DJ "What's this great song?" and discover that I already own a copy of LCJO's CJam Blues. I figure this excuses my overplaying particular songs in my collection. I also hope it explains my delight in songs which most of us have heard a million times before, rather than indicating a lack of imagination.
This drawing is a portrait my friend Scott Fraser drew of me for a birthday card, and I think it captures my DJing style. In a metaphoric sense, of course. The only vinyl I own is a collection of Stone Roses 12″ records, and the only martial arts I know involve paintings of generals on ponies. It is, however, an entirely accurate representation of my fashion sense. If vinyl is still cool, then I feel the wide-legged trouser is still ok.
DJing for the radio
I was asked to plan a show as the June 2011 Yehoodi Radio Guest DJ, so I put together a set of songs which I'd originally intended to be a cleverly themed collection of brilliantly rare and unusual songs (you can see the set detailshere. I discovered, unfortunately, that I don't quite have the skills to pull this off, so I settled for a list of my favourite songs. There was quite a bit of talking in between songs. This was because I'd also just discovered I quite liked the sound of my own voice. FYI most of these talking bits were just about as long as it takes to make a cup of tea.
DJing for the radio: did like, would do again.
Bossing other DJs about
I coordinate teams of DJs for large swing dance events. At the moment I'm working on the 2011 Melbourne Lindy Exchange: Turning it up to 11 (check the FB page until the website goes live), where the idea is to convince a handful of Australia's most arse-kickingest DJs to come make lindy hoppers dance like the crazy monkeys they are.
Most recently I've been Head DJ for the 2011 and 2010 Melbourne Swing Festivals, the 2009 Sydney Swing Festival and the 2009 Sydney Lindy Exchange. I was also involved in coordinating DJs for the Melbourne Lindy Exchange in 2006, 2007 and 2008.
I like putting together programs of DJed music which suit the event organisers' musical goals but which also let DJs show off their best action. I believe in the best possible working conditions for all volunteers and DJs at dance events, and am quite happy to speak at length on this topic. Or any other topic, really. At a local level I'm currently bossing Sydney DJs for the twice-monthly Swingpit social dancing night, and you can email me if you're interested in doing a gig.
Listen to me DJ!
If you'd like to hire me for a gig, drop me a line [dogpossum at dogpossum dot org]. If you'd to hear me DJ for dancers, you can catch me at Swingpit or Roxbury, at the infrequent Speakeasy gig, or at a lindy exchange. Or you can just listen to my 8tracks online for free.