Tim recently tweeted "Enough with the CJam hate", and it's a reasonable request/plea. This is a post about overplayed songs. Songs that are solid lindy hopping favourites, that are also really good, and really good fun for dancing. But songs that are also played so often in the lindy hopping world they're frequently met with audible groans.
This is a list of songs that I know will work. I was at an exchange, once, following the opening DJ, a good friend who's been DJing for years, and he played pretty much every one of these songs, plus a few others. I remember saying "But what am I going to play when I fuck up?!" He sniggered. His set went off like the proverbial amphibian. I was forced to get creative.
While these songs are favourites or even too familiar for dancers who've been around a few years, they're new to new dancers. And if you're just getting into DJing, they're very useful additions to your collection, and well worth the investment.
I'm listing these songs by the number of plays they've had in my itunes collection. So this is exposing my own preponderance for leaning on what I call 'safe' songs.
(title – artist – bpm – year – album title – song length)
C-Jam Blues – Lincoln Centre Jazz Orchestra with Wynton Marsalis – 143 – 1999 – Live In Swing City: Swingin' With Duke – 3:34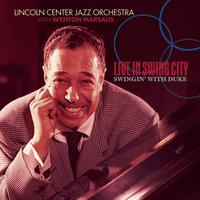 This is fabulous recording of a Duke Ellington standard, slowed down a little from its 1941 release tempo of about 180bpm. It's also a live recording from a show at the Lincoln Centre, and it features Winton Marsalis. I've spoken to lindy hoppers who were there, and they say it was beyond amazing. This entire album is really great (check it out here on Amazon), and there are at least seven extremely awesome songs on there which make great dancing. More if you're flexible. The band is top notch and the song selections are great for dancing. This is great, classic swinging big band jazz. Perfect for lindy hopping.
This song has been played to death. It's been played for far too many teachers' demonstration dances in Melbourne, and it gets pulled out every now and then on the social floor. It is good because it:
has the excitement and energy of a live band;
is a sick arrangement of a song by a fully sick composer;
it's a very easy tempo, but it doesn't drag;
it has lots of breaks (which dancers quite like), but it also has some really nice clever layers in the arrangement (which suit more skilled dancers).

This was my favourite dance clip for a long time:


It's Frida (yes, again) dancing with Kevin St Laurent. There is much showing off direct link).

Check out (an) original recording here in this 1942 soundie featuring Ellington himself.

Main Stem – Duke Ellington – Never No Lament (The Blanton-Webster Band) (Disc 3) – 208 – 1941 – 2:51

This isn't a song that I overplay, partly because it's faster. I find that most of the most overplayed songs in Sydney and Melbourne and the large Australian events are down there in the lower tempo range. But this is an overplayed favourite that turns up quite often. Because it's fucking GREAT. There's a fabulous version on that LCJO album. But the best one is the Ellington 1942 one. Or the 1941 one. Depending. Don't believe me? Here, be convinced:

That's Laura Keat dancing with Todd Yannacone at Lindy Focus IX late 2010 in a Jack and Jill (direct link). Todd is a control freak lead, but then, he's one lead even I'd follow very carefully, because he hears amazing things in the music and really shows you all those things. Laura – in excellent Laura form – pushes him juuuuust a little. I think this dramatic tension (not actual tension) adds to the excitement of this performance, with a song that kind of builds and builds and builds and builds until you think you're going to explode.

So, Main Stem is an overplayed favourite. But should you DJ it? Of course.

Ok, so I'm guessing you're figuring out that youtube plays a pretty big role in determining the popularity and overplayedness of a particular song? Yes. Just like music videos promoting a modern band's latest release, a video of a good dance performance by popular dancers pimps the hell out of a good song.

A Viper's Moan – Willie Bryant and his Orchestra (Teddy Wilson, Cozy Cole) -153 – 1935 – 3:26 – Willie Bryant 1935-1936

Strangely, I don't have a video of people dancing for this one. But I do have a a link to the song on youtube.

Again, this song is overplayed, and for good reason. There's a version by Mora's Modern Rhythmists, which also gets overplayed. I used that version to introduce people in Melbourne to the song, then when I had them hooked on the badarseness of it, I switched to the Willie Bryant version. It is beyond good. These days I play it when I want to build energy in the room. It always works.

Solid as a Rock – Count Basie and his Orchestra with The Deep River Boys – 1940s – 140 – 1950 – 3:04 – Count Basie and His Orchestra 1950-1951

There's another version of this getting about with Ella doing vocals, but I don't like it. This version has pretty much everything to guarantee its popularity:

clapping;
a repetitive verse/chorus structure;
Count frickin Basie;
moderate tempo;
nice energy.

To be honest, this is a song I like to rest as often as I can. I find it a bit tedious, mostly because it's a bit boring. It's not complicated enough to keep me interested. I also get a bit over the brass instruments and I think it could be a bit more exciting and have higher energy. But geez, it's a popular song. I feel like a sellout when I play it, but it's a guaranteed safety song.

Apollo Jump – Lucky Millinder and his Orchestra – 143 – 1943 – 3:27 – Apollo Jump

Another overplayed song in the friendly tempo range. This one was massively popular in Melbourne for a very long time. It has all the hallmarks of a winner:

swinging big band;
catchy melody;
lots of energy;

It's lots of fun to dance to. I have, however, seen it crash and burn on occasion. I've found it can come in a bit hardcore for people who are more rock and roll than lindy hop, and I'm often in the position where I have to play for both. Regardless, this is a good one have in your collection, if only because Lucky Millinder was in the Mills Blue Rhythm Band (arranging, I think, though I need to double check that), and the MBRB are fricking ace. The Lucky Millinder orchestra, doing this sort of song, is a lot more mainstream/accessible for your average lindy hopper today. Sister Rosetta Tharpe did some fucking great songs with this band, including Shout Sister Shout which is another of those overplayed winners.

Listen to Apollo Jump on youtube here.

For Dancers Only – Jimmie Lunceford and his Orchestra – 148 – 1937 – 2:41 – Swingsation – Jimmie Lunceford

Boy, is this one overplayed. I remember when Melbourne started discovering Jimmie Lunceford. Those were happy days. But this song does get overplayed. Again, it's a big band playing classic swinging jazz in a moderate tempo with lots of energy. It's a GREAT song. But I am very tired of it. I know this particular recording far too well to really enjoy it much any more. But again, it's a song that will save you in a pinch. And it's new to new dancers.

I had intended to continue with this post, but I'm finding it really dull. Overdone. Overcooked. Overplayed. But I think my main point is: often the overplayed songs are overplayed because they are really good. And they're a good place for a new DJ to begin, giving you an idea of what will work with dancers. They're also very good songs for dancers to have in their collection, because they're lots of fun. I also find these sorts of songs a good place to begin when I want to expand my musical knowledge. Who's in the band? Why is it such a good song? Who's the arranger? Why is a live recording so powerful?

I'm sure the rest of you can come up with a list of other great, overplayed songs. :D