Ok, so there's thing on faceplant where you're (as in you, women) are encouraged to post the colour of your bra in your facebook update, but not to explain what you're doing. I'd dismissed this as just one of those fb games and not really worth thinking about. As it's progressed, colours began popping up in people's fb updates, and men began asking about it. As this snowballed, I started hearing a mild alarm bell tinkle.
I'm not sure I'm ok with public games that ask women (only women, mind you) to discuss their underwear in a privately owned public forum. I've also been feeling a bit strange about the edge of titillation here. As you might expect, the more purile male faceplanters immediately sexualised the game. The 'keep it secret' element seemed to fuel the sexy element. This really emphasised the fact that women's underwear – bras, specifically – are sexualised objects.
I know this kind of sounds a bit durh to type out loud, but sudden association of this fairly silly but minor bit of fluff with breast cancer really made me stop and think.
The tweet that caught my eye:



The page at the end of the tweeted link: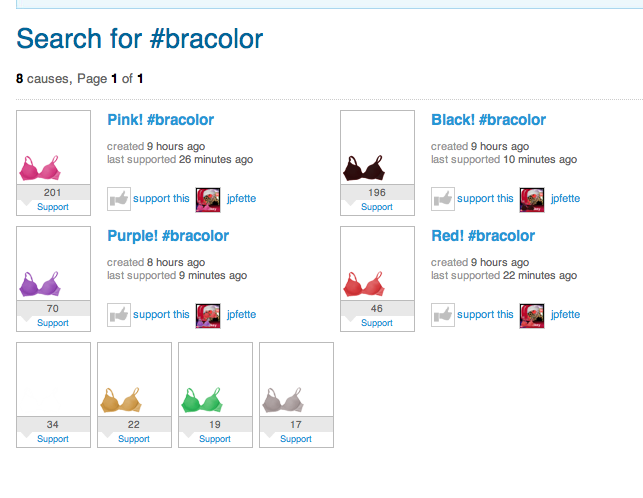 Lauredhel's Hoyden discussion of similar issues is probably a lot better researched and thought out than my little post.
When a friend essentially called the faceplant bluff, revealing her bra strap in a photo accompanied by characteristically dry commentary, the sexualisation was undone…. to a certain extent. I think that the important elements in this entire non-event are/were the idea that: a) women's bras are inherently sexy; b) bras are sexy because they are/should be hidden; c) women's bras are sexy because they have something to do with breasts; d) women's breasts (and women) are _always_ objects for male sexual desire. My unease lies with the effects of this association on/in breast cancer awareness campaigns and on public perceptions of breast feeding.
To return to faceplant, though… The most concerning The fucking irritating part of this is the gradual seeping-in of comments from men on women's updates on faceplant which read as sexual harassment. The majority of these have been from your standardly socially inept swing dancers, but I think an attendant unwillingness to call men on this type of commentary indicates the pervasive tolerance of chauvinism in swing dance culture. The online world simply allows us to point to specific, recorded examples of this behaviour.
More interestingly, it's worth thinking about the consequences of sexual harassment in this context. In basic terms, sexual harassment works to keep women feeling unsure of themselves, powerless to control the terms upon which they – and their bodies – are considered in public dance/online discourse. This is significant with dance, as women's bodies are necessarily open to the public gaze, and there is a continuing negotiation of the sexuality/isation of women's bodies on the dance floor. Don't get me started about fucking high fucking heel fucking shoes!
Let's talk context. There are usually more women social dancing than men, hence the term 'follow heavy' and the explicit suggestion that too many women is a bad thing. For other women. Having uneven numbers of follows and leads at a dance (where following and leading is clearly gendered) results in one group (almost always the follows, almost always women) competing – either explicitly or implicitly – for the attention of men, in order to secure a dance.
This results in tensions and competitiveness between women in swing dance culture, and, rather than working together to achieve positive outcomes, women tend to work to secure their _own_ dances/happiness, etc. This situation is exascerbated by the large number of younger women (the teens to twenties) and the emphasis on physical appearance (both in terms of conventional beauty but also performances of physical dancing ability) in social swing dance. It also serves to secure the confidence of male dancers. Simply put, it feels good to be competed for. It also improves your dancing to be on the floor, dancing all the time. And when you're on the floor all the time, dancing and feeling and looking confident, your status rises and, well, you get a feedback loop which recreate the same old boring gender dynamics.
Booooring.
As you can imagine, this shits me TO TEARS. Tears of rage and FURY.
But rather than sit about being angry and resentful and generally furious, I'd rather get proactive. After all, one of the side effects of this bullshit – patriarchy – is to reduce women in confidence, to keep us sitting idly, frustratedly, powerlessly by. These are things that I do to get around this bullshit:
Simple, and effective. In both scenarios I dance with women and I side step the broader challenges of men-leading-women on the social dance floor. It makes me feel good to develop new skills, and it makes me feel good to simply step out of that unhealthy cycle of self-blame (aren't I a good enough dancer/pretty enough/young enough/cool enough) and rage (wtf is wrong with you?!). I've also found that setting an example to other women is important. Because I'm not the only one standing there, bored, I find that other women are just as keen to get dancing – with me, alone, with each other. And I'm also very willing and keen to follow the example of other women leading or dancing alone.
One of the most important parts of this process is stepping out of the silent to-ing and fro-ing of unspoken competition between women. I think the unspokenness is significant, just as with the bra colour thing. As soon as you simply stop participating in a silent cycle that disadvantages women, you break it.