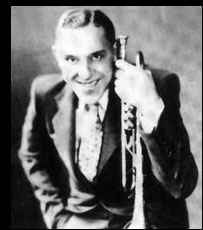 I've been downloading a bunch of Wingy Manone from emusic's Chron Classics/Complete Jazz collection. I thought I could keep away from him, but I can't. He played the trumpet in bands with all sorts of people in New Orleans, Chicago and New York.
This Redhotjazz.com entry states:
Wingy Manone was a New Orleans trumpet player and vocalist who lost his right arm in a streetcar accident when he was ten years old. He wore a prosthetic arm while on stage performing and used it so well that many never noticed his disability.
Makes me wonder if they realise that it's not a disability if it's not impairing his abilities…