Remember I was all interested in magazines and their interest in 'all-star' shows and bands? Well, I've been reading* about Gjon Mili, who directed 'Jammin' the Blues':

(I think this version is edited down… but I'm not sure)
Seen that one? Maybe you haven't seen this one:

Here's the blurb from the youtube site:
Life Magazine photographer Gjon Mili joined with jazz producer and Verve-label owner Norman Granz to produce the short film "Jammin' the Blues" in 1944 with Lester Young, Red Callendar, Harry Edison, "Big" Sid Catlett, Illinois Jacquet, Barney Kessel, Jo Jones and Marie Bryant. The film was nominated for Best Short Subject at the 1945 Academy Awards, but didn't win.
The pair came together again in 1950 to shoot footage of leading jazz artists of the day, but when funding dried up, the film ceased production and sat on shelves for 50 years (except for a few snippets which found their way onto bootlegs).
Blues For Greasy is one of those pieces shot by Gjon Mili and Norman Granz, using musicians from his Jazz at the Philharmonic tour.
Harry 'Sweets' Edison: trumpet
Lester Young: Tenor Sax
Flip Phillips: Tenor Sax
Bill Harris: Trombone
Hank Jones: Piano
Ray Brown: Bass
Buddy Rich: Drums
Ella Fitzgerald: Vocals
Isn't Youtube wonderful?
But then, Google is pretty good too:
Gjon Mili was actually a photographer, who did lots of work with magazines like Life. He also did some work for Esquire, including a 'Jam Session' shoot at his studio. And because the internets is truly freakin' awesome, I had a little look at the Life photos on Google and found this freakin amazing collection of photos.
What's so great about this series? Lots of things. The sheer calibre of stars, all together in one room, playing jazz. Duke Ellington, Dizzie Gillespie, Gene Krupa, Billie Holiday, Eddie Condon… there are just so many amazing musicians in there together. One of the other important things to note about this session is the fact that this is a group of mixed race musicians, playing and photographed together. That was still pretty amazing in 1943.
This is my favourite one: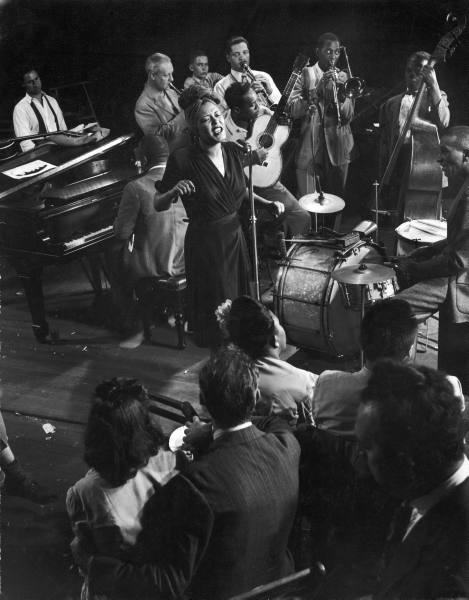 linky
I like it because it's Billie Holiday singing 'Fine and Mellow' with Cozy Cole on drums. I'm sure someone with a better eye could identify the others. This isn't the famous 1957 television performance I've posted before, though.
I also quite like this one: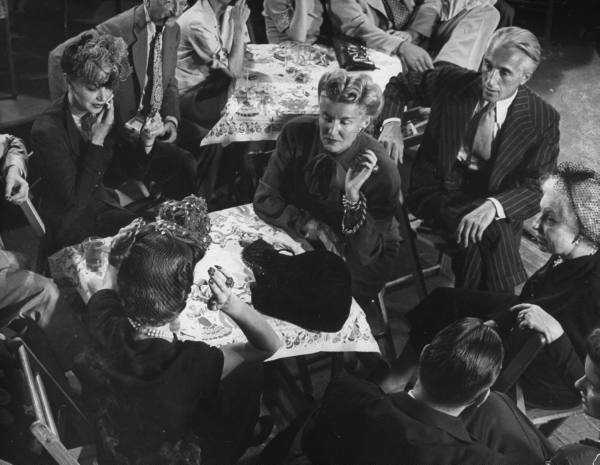 linky
It's a group of people from vogue magazine at the same photo shoot.
You know what I'm thinking.
*Knight, Arthur, "Jammin' the Blues: or the Sight of Jazz, 1944". Representing Jazz, ed. Krin Gabbard. Duke U Press: Durham and London, 1995. 11-53.