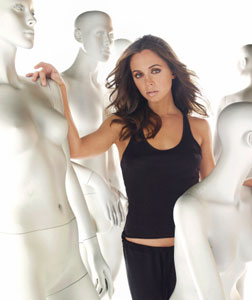 1. Dollhouse is crap.
Because:
– I'm pretty sure it fails the Bechdel test.
– the gender stuff sucks arse. A bunch of beautiful young women kept, powerless, by a business which rents out their bodies for vast sums of cash. It'd be horrifying if there was no chance of it ever coming … true… Wait. Ok. So this one sucks for even more reasons.
– the gender stuff sucks arse. One of these 'actives'/slaves begins to remember who she is and destabilises the internal workings of the business. Or does she? Even Alias had better gender politics. The female protagonist at least knew who she was and made a series of choices. Echo is, really, just a vehicle for male fantasies. In this case, it's Joss Whedon's fantasies. And they scare me. Whedon: fail.
– the gender stuff sucks arse. I thought it was going to get clever and tip all this stuff sideways. I'm still waiting. Oh, gods, just watch an episode or two and you'll see for yourself.
– the race stuff sucks arse. Whedon repeatedly fails ethnicity.
I'm beginning to think Buffy was a fluke. Joss Whedon sucks.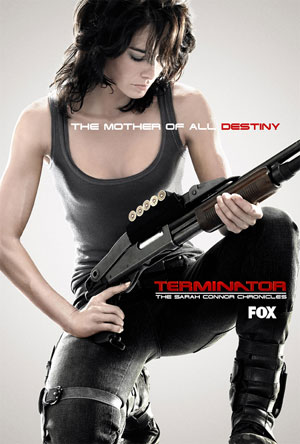 2. Sarah Connor Chronicles is awesome.
Because:
– it passes the Bechdel test. It even encourages us to think about different types of femininity and whether or not cyborgs can be female. And then it makes us think about masculinity in the same ways.
– it not only has a bunch of violence and shooting-up (as per most SF these days), it also deals with the effects of violence and living with violence and terror on the lives of people.
[SPOILER]
– the second season ends with the 'nuclear' family set up in season one (with Sarah as 'mum', John and Cameron as kids living in the middle class suburban family home) crumbling. The patriarch is done away with, the mother discovers she's actually much happier when in control of the family, directing its motion when literally on the move, Cameron is rescued from adolescent oblivion and John learns that heterosexual romance isn't all it's cracked up to be. So the gang are back on the road, with Sarah as head of seriously badass single parent family.
[/SPOILER]
Phew.
– the program deals with the difficulties of adolescence in a complex way. John is continually reminded of his responsibilities as the future of humanity, but is still constrained by the middle class nuclear family. There's tension between his eventual role as male hero and his relationship with his active, powerful, controlling mother. Not to mention his desire (and isn't that a complicated mess) for the cyborg Cameron. His mother's power is also complicated: it's at once essential to the group's survival (she is ruthless) and also highly problematic. I was most fascinated by the way she began to crumble in the suburbs: without purpose she began to suffer, quite horribly, from post traumatic stress disorder (as they all did, really).
– time travel is tricky. Unlike Dr Who, which does not in any way deal with paradox and time travel in a clever way, SCC makes it clear that time travel is complicated and that paradox is difficult to avoid. We're left wondering if these time traveling heroes and villains are so effectively separated from their reality that their skills and missions and motivations have become meaningless. As each action changes the future, their original, independent missions seem less and less important or even logical. Which humans are good, which evil? What does it mean for humans to work with the machines, when Judgement Day is, essentially, marking the machines' commitment to killing every single human? Even the terminators' motivations seem skewed by changing context: is Weaver a baddy or a goody? Can John Henry be redeemed by his human/christian teacher and the friendship of a human child?
All the moving about through time (disassociating characters from their temporal and social contexts) and changing of futures means that missions in the 'now' are unanchored from their intended purposes. This flux is perhaps best illustrated by the terminators' moving so far from Arnie's original (and unimpedable) mission: to terminate Sarah Connor.
– Cameron is problematic.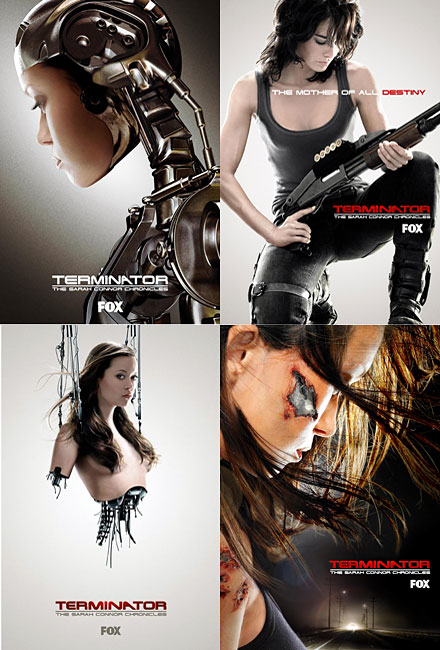 As that series of posters above makes clear.
Cameron's obviously sexualised: she is presented as the object of John's unrequited (and eminently problematic) sexual desire. She presents herself at various moments as a sexualised entity: in the final moments of season one she pleads with John not to kill her because she loves him. This is a transparent effort to delay termination by a cyborg temporarily 'corrupted' from her mission to protect John. It is, clearly a lie, a moment of deceit. But we have spent almost the entire season being carefully led to read her as a potential love interest for John – his desire for her suggests that she should, 'naturally' return his interest. But this isn't your average heteronormative love story. It is made quite clear that Cameron has been 'programmed' to protect John so as to avert Judgement Day. She is clearly fixed on this male character, but her motivation is not heterosexual desire. Or is it? We are reminded by the character Jesse (another 'love interest' from the future) that John Connor has formed an intense and apparently unnatural attachment to Cameron in a future world. And that she reciprocates this.
The buffybot problem is quite clear here: is a machine-woman operating to protect a particular male character anti-feminist?
– I'm prepared to let SCC go a little further with this storyline – I like the way they've presented these female cyborgs (Cameron and Weaver the 'mother') as incomplete or otherwise troubling.
It's difficult to just accept them as your stereotypical 'buffybot' fantasy model cyborgs. Both cyborgs have become characters in their own right, and both are clearly negotiating their way through some serious gender stereotypes: Weaver must 'learn' how to be a 'mother', and continually fails to perform 'correct' femininity (and not only as a mother – she is also a corporate chief). Jesse – Reece's 'lover' from the future (though, it turns out, not from his particular future; she is a Jesse from another time line, a time line created by Reece during this 'now') also fails to adhere to familiar gender stereotypes. As does Riley, John's girlfriend-from-the-future. Sarah Connor herself is challenging. Though she approaches the 'mother lion protecting her cub' caricature, her continual deviation from this role is enabled by her more complex relationship with John, Reece and Cameron. Sarah herself has problems with motherhood, or with her role as a mother. There are a series of incidents where it's made clear that Sarah enjoys or at least finds great satisfaction in her 'professional' dealings with freedom fighters, underground characters and general sneaky/terrorist/badass types. She's also mad-keen on making plans. Sarah seems to also find it difficult to occupy the conventional mothering role and these badass roles. But it's actually quite nice to see a character exploring the fact that mothering isn't simple or 'natural', and that it isn't always a wonderful blessing.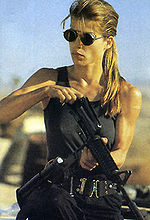 – it keeps me thinking. Unlike Dollhouse, I'm not prepared to give up on SCC yet; it doesn't make me so angry I want to scream. It keeps me wondering how it will resolve these tricky relationships.
It references Linda Hamilton (even if this Sarah Connor doesn't have Hamilton's fully ripped hardbody), and we're continually reminded of her transition from Arnie's innocent, almost-helpless victim to the hardbody badass of T2: gender is flexible, femininity and gender is flexible. I'm still not sure about Cameron: is she a buffybot? Or is she something more? If she's something more, we have to allow for cyborgs having emotions, identities, personalities beyond her programming. And if this is the case, what does it mean for a woman to have been 'made' by other machines?
2. Fringe.
I like it. But I don't have much to say about it right now.