Three interstate trips in one month. No more, thanks. Conference, christmas and a funeral. Brisvegas was interesting and I quite liked seeing it – it's changed, I've changed, so it's kind of nice that we could get together again after seven years and find that we had lots to talk about and quite liked each other.
Acclimating to mega-humidity? Tick.
Family visited, without incident? Tick.
Old mates visited. Tick.*
It is hot today, and I have cleverly booked in an appointment with the doctor for another ear inspection. It's becoming an annual thing. Well, something I do a few times a year, actually. I have had enough of not being able to hear properly – it makes me irrationally furious, inciting Shouting, Stamping and Offensive Language. So I will have them irrigated today at 3. When the ambient temperature is about 40 degrees C. I'm hoping it will soften the wax and aid its removal.
I have plans for films to see, and I have started thinking about redoing the thesis. I have decided that it will now be known as The Book rather than The Thesis. I will start thinking about fonts immediately, as that is obviously the most important part of the process. Pav articulates my current feelings about the project quite nicely. As an ob-con type person, proof reading and editing is really the best place to site my natural abilities and interests. Serious Tidying will commence in a few hours, once this post is written, a cup of tea made, and a little clothes mending completed.
What fillums have I seen lately? Well, one of the most pleasing was Paul Verhoeven's Starship Troopers. I hated this when it came out, but now, after a few years of Howard government, it makes a lot more sense. It's also part of a recent spate of early 90s sci-fi fillum delightfulness, after we watched Total Recall the other night. In discussion with a fellow nerd yesterday afternoon, I realised that they're both actually Verhoeven fillums, and that's probably why they're both so wonderfully specrappular. Having read this type of SF as a Young Person, first discovering the Adult part of the family bookshelves (at about the age of 11, when carefully scanning the Adult stuff for the least hint of sauciness), these two fillums really capture the mood of terrible authors like Peirs Anthony. It's lovely, teenage stuff, and absolutely low-brain. So that's a tick tick and a V.G. from us.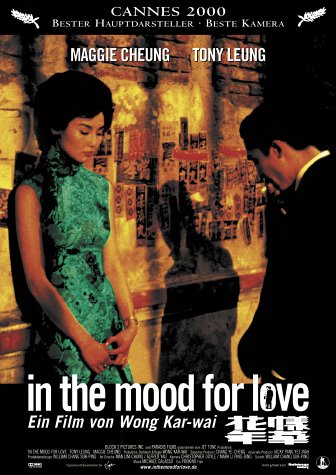 Last night on SBS I also stumbled over In the Mood for Love, a Kar Wai Wong film that I absolutely love. I keep hoping their relationship will end well, but it never does, no matter how many times I watch the film. I love the obvious stuff – the colours, the framing of shots, the slo-mo, the soundtrack, the almost-love-affair ness of it.
Let's have a look at a couple of PR shots: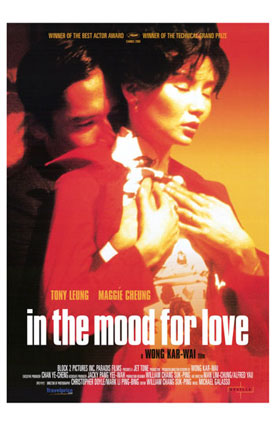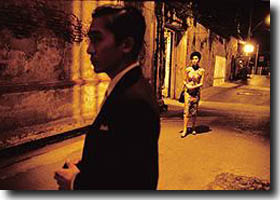 And just in case that's not enough, here's the trailer:

I think I might have a Thing for Tony Leung. My Thing for Maggie Cheung continues.
This new Thing is only fuelled by the immanent arrival of Ang Lee's latest film, Lust, Caution, which I've heard has heaps of hot sex, which I know will be an absolute visual feast, and which I'm terribly excited about. I'm thinking about special preview sessions on Friday day. It also stars Leung, which is very nice, and Joan Chen, who I also love (you might remember me crapping on about this stuff a little while ago in this post). I have rewatched Lee's Sense and Sensibility in preparation. Because no one does suppressed lust and caution like Austen.
The nicest part about catching this film last night was discovering it's part of an SBS series screenings of films by the cinematographer Christopher Doyle. The worst part was realising I'd missed Hero. Dumplings is on Wednesday 23rd January. I'm not sure if the others have already been on or not, but the SBS search function on their site sucks a bit, and I can't be bothered figuring it out. Guess I'll have to go to the video shop. Oh wait, our video shop SUCKS, so that won't work. Guess I'll be the last kid on the block to get into it, and use Netflix/Quickflicks.
Additionally, I also missed the first episode of Skins, a new series by the doods who made Shameless. And that's a big poo.
Well, think of me as I make it by PT (it's probably too hot to ride) to the doctor this afternoon, and pray for my ear drum. Let's say no to perforations.
*twice in a year! Dang, we'll have nothing left to talk about next time!