We do actually intend to do something besides eat this week.
Perhaps.
So far I've had a couple of naps, eaten way too much, sat on the couch and 'watched' The Fast and the Furious: Tokyo Drift, a film which, strangely, has caught my interest.
I am fascinated by the way each of these films seems to be using the same story line, but with different male protagonists, and a host of equally interchangeable booby girls of indeterminate ethnic origins. I'd like to say that my interest was caught by these sorts of things. But I was actually fascinated by the cars and the driving – the way these were 'superlight' cars with 'powerful engines'. Basically, the 'Tokyo drift' involves taking corners really quickly in these light cars. You kind of 'drift' around the corners. Especially if you're in a parking lot or driving down Mt Fuji (I think it was meant to be Mt Fuji – I wasn't really paying much attention, and it seemed the obvious choice). There was a series of scenes very much like the 'learning to dance' bits of Footloose. And of course, a car-makeover.
In addition, there were a number of thinly veiled 'American = best' bits, including the necessity of fitting out an American Metal car with a full-on Japanese engine for the Big Race sequence, the protagonist making friends with an African American kid at school, lots of full on Japanese teen fashionistas buying 'American' sports shoes, a kind of narrative reworking of the term 'gai jin' by the protagonist and so on.
I think I want to see what

I was a fan of the original television series.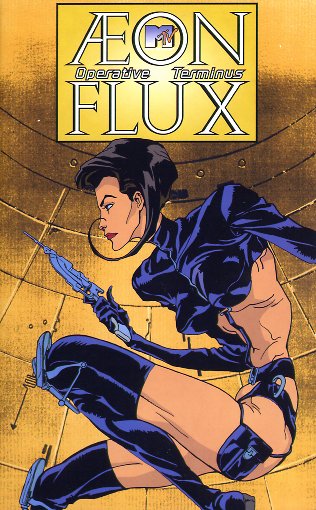 The strange, angular characters and odd storylines really appealed. Not to mention the female protagonist. I liked the way she was 'sexualised' but not in a conventionally sugary way.

But I also liked the film version.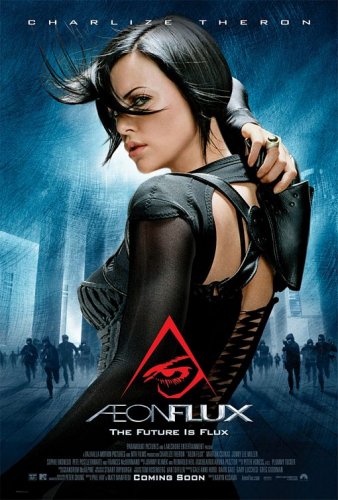 Watching the extras on the DVD now, there are some interesting things working in terms of body shapes and aesthetics of movement. It's a very white, European aesthetic at work – lots of pointed toes and extended legs and arms.
But you can't help but think about issues of gender and body and sexuality when you're watching an 'action' film, whether we're talking about female or male actors and characters. I was recently seriously annoyed by a comment from a peer about these sorts of female characters – that they were, simply, sexualised eye candy for computer game playing adolescent boys. Because for me, these type of female characters (from Lara Croft to all the Milla Jovovich characters) are exciting and interesting and far more than just eye candy.
I think that my main criticism of that comment is that it suggests that male action characters are somehow not sexualised (because, obviously, the female body is always the object of desire, the male is always the subject). And that a woman being physically active or violent or acrobat is somehow inherently sexual or sensual because she is a woman. And that this somehow mediates the affect of her violence.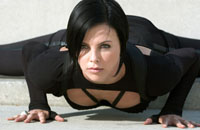 Sure, there are some fairly heavily sexualised images in the representation of female action figures.

But then, there are a range of ways of sexualising women and associating them with sexualised symbols.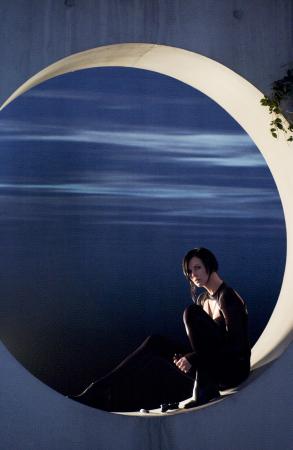 Whether they're 'feminine'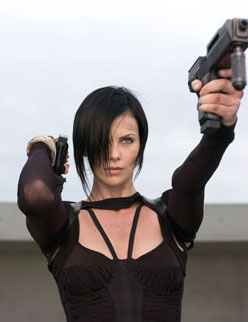 or 'masculine'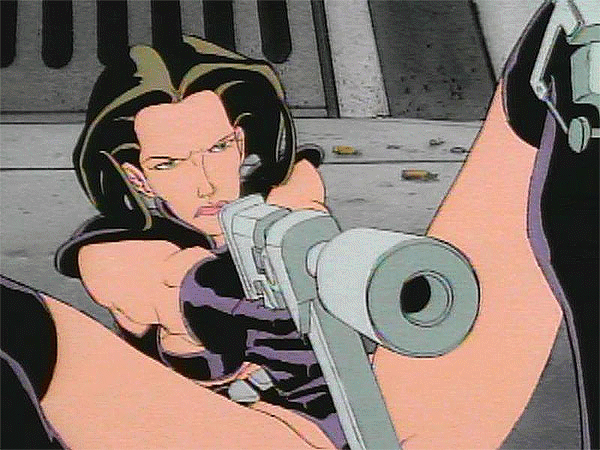 or really 'masculine'.

But I do think, despite these things, that when the protagonist is a woman, and when she is a powerful character, the phrase 'sexualised violence' is too simple. Surely, Charlize is one seriously sexualised body flipping and fighting her way through that film. But the fact that she is a character I feel comfortable imagining myself to be (in a classicly psychoanalitic moment) suggests that there must be some sort of feminist pleasure to be found in these sorts of characters. And that there must be more to them than simply a little hawt body action for teenage boys to scope.
As even my undergrads have well and truly gathered, audiences are active. We make active use of the images on the screen. And so I can make Aeon the type of female character who doesn't make me uncomfortable.
Aeon herself is an interesting characer, as a result of her original placement as an animated character in an MTV text who died quite regularly.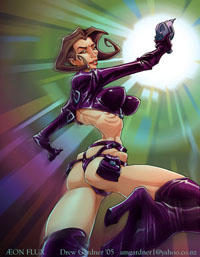 If you've ever seen the original animation, you'd know that Aeon (and her co-characters) aren't entirely comfortable.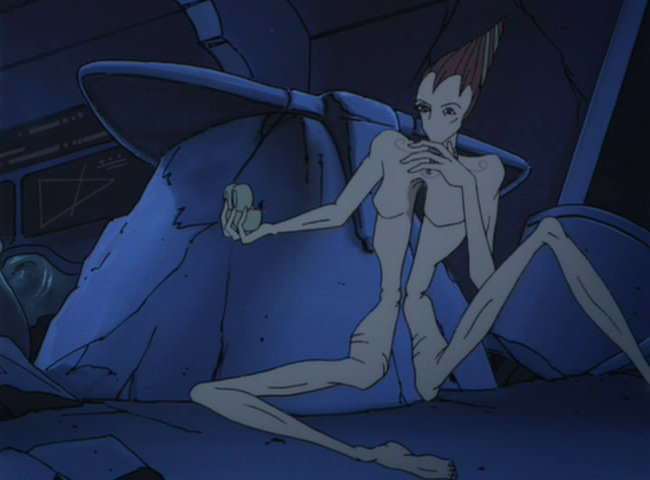 They don't fit nicely into archetypal 'objects' and 'subjects'. The program was difficult to watch. The characters were difficult to live with.

I know that there are problems with the film. I know that it didn't bring with it all the subversive and interesting aspects of the animation. But I think that for someone like me, who has seen the animation, the film cannot help but echo the animation – the two are inextricably linked. Intertextual. Cross-polination (to use an image from Aeon Flux the film).
Charlize herself carries interesting echoes of sexuality and the body and speculative fiction.
And Aeon Flux is far less disturbing than silly films like Ultraviolet, though no where near as interesting as Razor Blade Smile.

Last night riding home from die Spiegeltent (where I am currently doing a few DJing gigs – Nov 4th and 18th and Dec 2nd if you want to catch up – it's a glorious venue, there's a cheesy dance class (which every one loves – especially the kids) and there are cheesy performances (which you can't help but enjoy) and cheesy jokes (and I don't care if it's only me who adores them) and some fricking AWESOME DJed music – all for $10. Though it's $10 for a beer(!!!!) )
… yeah, so on the ride home, we saw ten cats. I kid you not – ten cats. I usually see three (often the same ones, though not always), but last night we saw four ordinary cats and then six feral cats down near the railway line. I don't know who thinks feeding feral cats is a good idea: if you do, you're ON CRACK. The Squeeze got off his bike and tried to chase one to give it a squeeze. He stopped when I warned him that he'd have to sleep in the shed if he caught one.
I don't much care for cats. I certainly don't like to see them out on the street, looking for things to kill.
We have also seen a lovely small corgi tied up outside our local shops a couple of times lately. Last time it was outside the Safeway, yesterday it was outside Nino and Joes. I think I'm in love. I suggested The Squeeze squash it into his backpack and then make a quick getaway, but the owner overheard and didn't look too impressed.
That is one fine corgi – it is gentle and sweet and has lovely fur and huge ears. Unfortunately, generations of inbreeding have left it with stunted feet.
Tomorrow is dentist appointment #3. The second one wasn't so bad (just two small fillings), but tomorrow is the follow up on the surprise root canal. I am a bit scared, as it seems that side of my jaw is more sensitive than the other. I have promised myself another trip to the cinema (we went to see Children of God tonight at the Nova) and I think I'll let myself see anything I want, even if it's Little Miss Sunshine which The Squeeze wants to see as well. Either that or that dullish biodoco* about that architect bloke. I like films about buildings. Really, I'd prefer a chick flick, but they're all out of them at the cinema. And I doubt they'd have it at the Kino, which is across the road from the dentist. Nor the Nova, which is my second choice.
So I guess I'll just have to settle for some insane spontaneous CD purchasing instead.
*Sounds like something I'd buy at Nino and Joe's, huh? Nope. But I did buy a lovely rolled turky roast this weekend. I love turkey, and this was some great action. Stuffed with something sweet with nuts (shh, don't tell The Squeeze – he hates nuts but didn't realise). Took two bloody hours to cook, but man, was that some tasty giant fowl.
–edit–
Note to self: turkeys aren't big on the swimming.