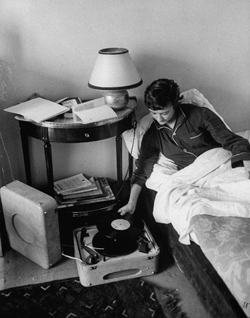 I've had a few people ask questions about getting into DJing. They tend to ask things like "what're some tips for a beginner DJ?" It's hard to answer these sorts of questions without giving too much information and without knowing about that person's scene. So I'm going to try to write a few posts addressing key issues.
[EDIT: I've expanded/clarified these points here, in this post
beginning DJing: different DJing contexts']
Of course, these are issues which I see (with my 20/20 hindsight) as key to my beginning DJing. So they're probably not going to apply to anyone else's experiences, or even be a terribly accurate reference point for my own DJing. But what the heck.
Firstly, here's how I got into DJing:
It was in Melbourne in 2006. Which isn't very long ago, really. At that time there were two large social dancing nights – CBD on Thursdays in the city and Funpit in a dance studio every second Friday night. There were also many after-class, shorter social dancing opportunities where you could get in an hour or so of dancing. The Brunswick and Camperdown classes were good spots for this. There was also a struggling Sunday afternoon/evening event at a venue called Mayfields. This died almost immediately after I did my first ever set there. I take full responsibility.
Nationally, there were two all-social dancing exchanges – Canberrang and the MLX. MLX had only just moved to social dancing only in 2005.
I had been to Herrang in 2004 and was particularly frustrated by the social dancing in Melbourne. The music really varied. There was one or two DJs who were really solid (Brian, Doris), and there were only a few who really played the sort of music I liked – classic big band swing from the swing era. Otherwise, Melbourne was awash in supergroove, neo, terrible late 90s 'swing lite' and contemporary artists like Michael Buble. It was killing me. I wanted to dance to the music I loved, and I wanted to dance to the music I saw in the clips from old films. DJing is not, however, a good way to do this. When you start DJing you're almost guaranteeing you'll never dance to your favourite songs. You'll just be playing them for other people.
I'd been into swing for ages – long before I started dancing lindy hop. It was wanting to dance to swing that brought me to a class in Brisbane in 1998. So I'd been buying music for a while. By 2005 I had been buying CDs for dancing in earnest and had enough music to DJ with. A close friend of mine had started DJing in 2004/2005 and it was her enthusiasm and suggestions which really pushed me to start DJing. From here, it was the support of my close friends which really got me to DJing.
Before I actually played for a crowd I used to practice DJing at home, playing with my music software and doing 'pretend' sets. I did my first sets for small after class crowds, and they really weren't what I'd think of as DJing. I was all caught up in the scariness/excitement and really didn't rock. It was after about the third of these that I finally did a real set at CBD.
I was really scared.
I really could have done a 'serious' gig at an after-class social. But the DJing standard at CBD was so bad at that time, I don't think I could really have done any worse.
I practiced combining songs and working on 'flow' between styles at home a LOT. Basically, I wanted to play stuff I loved, but I knew I was going to have to make some concessions to pre-existing tastes. In retrospect, I was going in there with an agenda: "play some good music, not that shit we hear every week."
I think it helped that I'd been dancing so long before I started DJing. I had an idea about what might work for dancing, and I had a decent idea about the structure of swing music and how it worked with lindy hop (this is something that's _really_ improved over my DJing lifetime). I also had an idea about what was fashionable now, and had been in the years before. So I could make some observations about 'favourites' and which songs had failed terribly in the past.
I did a few things for my first set:
I approached the organiser for a chance.
I did the first set of the night
I asked an experienced DJ to stand next to me during my set and help me set up and handle the technical stuff
I practiced with my laptop and DJing software til I knew it inside out. I didn't want to have problems there in front of a crowd.
I DJed for an hour and a half, which was a bit too long.
This is the first set I played for a real crowd. It was at CBD on Thursday 1st February, 2006, starting at 8.30pm and finishing at 10.
[title bpm artist year album]
Knock Me A Kiss 115 Louis Jordan 1943 Swingers
Let's Call The Whole Thing Off 120 Ella Fitzgerald, Louis Armstrong, Oscar Peterson, Herb Ellis, Ray Brown, Louie Bellson 1957 Ella And Louis Again [MFSL]
Cow Cow Boogie 120 Jennie Löbel and Swing Kings 2001 He Ain't Got Rhythm
Splanky 125 Count Basie and his Orchestra 1957 The Complete Atomic Basie
Shoo-Fly Pie and Apple Pan Dowdy 126 Stan Kenton and his Orchestra with June Christy 1945 The Best Of Big Band – Swinging The Blues
Is You Is Or Is You Ain't My Baby? 140 Dinah Washington 1956 The Swingin' Miss "D"
Moten Swing 138 Oscar Peterson 1962 Night Train
Out South 129 Junior Mance Trio 1962 Happy Time
Good Rockin' Tonight 155 Jimmy Witherspoon 1963 Jazz Me Blues: the Best of Jimmy Witherspoon
Now Or Never 167 Katharine Whalen 1999 Jazz Squad
Big Fine Daddy 125 Lavay Smith and her Red Hot Skillet Lickers 2000 Everybody's Talkin' 'Bout Miss Thing
Hey! Ba-Ba-Re-Bop 136 Lionel Hampton and his Orchestra 1945 Lionel Hampton Story 3: Hey! Ba-Ba-Re-Bop
For Dancers Only 148 Jimmie Lunceford and his Orchestra 1937 Swingsation – Jimmie Lunceford
C-Jam Blues 143 Lincoln Centre Jazz Orchestra with Wynton Marsalis 1999 Live In Swing City: Swingin' With Duke
Don't Falter At The Altar 138 Cab Calloway and his Orchestra Are You Hep To The Jive?
Let's Do It 148 Eddie Heywood and his Orchestra (Billie Holiday) 1941 Lady Day Swings
Apollo Jump 143 Lucky Millinder and his Orchestra 1943 Apollo Jump
Shoutin' Blues 148 Count Basie and his Orchestra 1949 Kansas City Powerhouse
Comes Love 105 Billie Holiday and her Orchestra (Harry 'Sweets' Edison, Ben Webster, Jimmy Rowles, Barney Kessel, Joe Mondragon, Alvin Stoller) 1957 Body And Soul
My Handy Man Ain't Handy No More 76 Alberta Hunter (acc by Doc Cheatham, Vic Dickenson, Fran Wess, Norris Turney, Billy Butler, Gerald Cook, Aaron Bell, Jackie Williams) 1978 Amtrak Blues
Salty Papa Blues 115 Lionel Hampton and his Septet with Dinah Washington 1943 Dinah Washington:the Queen Sings – Disc 1 – Evil Gal Blues
Drinkin' Wine Spo-Dee-O-Dee 130 Lionel Hampton and his Orchestra 1949 Lionel Hampton Story 4: Midnight Sun
Drum Boogie 176 Gene Krupa Drums Drums Drums
Looking at it now, there's a fair bit of stuff I never DJ any more and don't even listen to. That Oscar Peterson version of Moten Swing for a start. But in 2006 Melbourne was heavily into supergroove. There was no real interest in old school music or dancing, beyond the kids learning at Got That Swing, and a few indy dancers. The tempos in this set are really low. Oooh, that first block is tediously slow. And low energy. The tempos in Melbourne were generally extremely low. So 160bpm was crazy fast.
I posted about the set on the Swing Talk board here, though there's nothing here on dogpossum.org.
In general terms, I think I took a few chances which were new to or underplayed in Melbourne, but used a lot of familiar stuff which I knew would work. The transitions between styles aren't as smooth as I'd like, and the energy levels are a bit low, but this was my first set, and this was the first set of the night at the venue. If I remember rightly, it was a bit quiet in that moment after the classes and before social dancing. And that set could be heavier on the beginner dancers.
In terms of song selection, I'm surprised I played two Billie Holiday songs. I love her so much, but I rarely play her now. Which is a massive shame – she played with such wonderful bands. Handy Man was probably a moment of 'oh I loooove this song and I _have_ to play it.' I dunno how it went down. This was before Melbourne got into blues, so it might have had mixed results… though the preponderance of supergroove meant that Melbourne dancers were generally ok with lower tempos.
Looking back over my set lists (I've kept them all as playlists in itunes), I played about 22 sets in the next six months. Which is scary. I was a totally new DJ, playing heaps of sets. And I notice most of the second sets at CBD, where I was finishing, ran way over time, from anywhere to 20 minutes to one and a half hours over my rostered 1.5 hours. I do remember the organiser for that venue wasn't all that organised, that there was a shortage of DJs willing to do sets, and that I said yes to every set I was offered. I think saying yes (often at no noticed) was a good strategy in that it got me lots of sets and got me lots of experience and exposure and got me a rep as someone you could call on in a pinch. But I'm not sure how good it was for the dancers.
Looking over the sets themselves, I didn't suck at all (though how can you tell without seeing the effect songs had on the floor?), but I'm not sure it's a good idea to have so few DJs working a social scene. CBD was very popular during this period, though it did decline in the following year.
There's some interesting comment about DJs' sets in the DJed sets thread with some interesting parallel discussions about CBD in this thread. The DJ bubbs thread is also kind of interesting.
I'll try to do another thread on beginning DJing generally. But I don't make any promises…
NB: looking back over those threads from SwingTalk, I'm struck by Brian's awesome music. He was playing stuff I still haven't discovered. It was a sad time when he gave up DJing. :(
Other posts on beginning DJing: