I can't figure out what I've done with the comments. They're busted. I think this blog needs an overhaul, anyway – it's been ages since I did the templates. Probably also need to update to new MT. Or new blogging tool.
News:
– We are biking tourista grande! We are riding our bikes everywhere. I am trying to find a nice way of putting them on a map. Bikely isn't very helpful (it has a craptastic site). Am considering special cycling blog. Nerdy enough? NO! But we have discovered some lovely river-side bike paths (Cooks River) and some sneaky off-road shady tree lined bike paths (somewhere in… Petersham? Parallel to… Hewson Canal ?). We have also decided we don't like riding through stupid Darling Harbour (well, across that bridge – the Piermont? – it sucks) because not only are pedestrians dumb, but tourist pedestrians are stupidly dumb. I am also having brought home to me just how un-bike-aware Sydney drivers are. It's like they freak out when they see a cyclist – they swing out really wiiiiide to get around us. Or they crawl along behind us. Melbourne motorists have mad cyclist-aware-skills. Also, Sydney drivers pull up at traffic lights at the very last minute. This is terrifying if you're just in front of them, pulled up with one leg down, waiting for the lights to change (but also makes the point: do NOT hug the curb at lights – TAKE THE ENTIRE LANE).
If you'd like to come bike riding with us, drop me a line. I am very unfit atm, so we go slow. Especially on hills. We have taken many friends for their first-in-10-years bike rides. They've liked it. We're kind and are quite happy just to poodle along, chatting and sticky beaking.
We also avoid busy roads and we like to explore and 'just have a look'. We like a combination of urban streets (lots of windows to look in) and leafy bits. We've been surprised by how leafy Sydney is, and how many nice, quiet streets there are right here in the inner suburbs. There are also some really great bike paths. Even the city (on a Sunday) isn't so scary. Though I don't ride on the actual road.
We also like to stop regularly for cake.
– It was recently very hot here in Sydney. But now it is only quite warm and incredibly humid. It's been drizzling all afternoon. That's good, because we rode to Bunnings in Ashfield today (via Harbourfield) and bought plants. When we got to Bunnings we were (once again) shitted off by its shitfulness: no bike loops (well, duh – it's like _the_ most car-centric place ever… after Ikea), inept staff, etc etc. But we bought plants. A grevillea and some sort of native climber (whose name I can't remember). I wanted Telopea and Protea, but they are fuck-off expensive (as in $50 for small pots). So we said "fuck off!" and got the common-as-muck moonlight grevillea and cheapy native climber. Then we rode home. It was so hot. It was overcast, but I got burnt badly. Because I am a dickwit.
When we got home we rested. Then we cleaned our house. Then we planted the plants. I actually supervised (because I am still injured – and will be for at least another couple of months, if not forever (the future isn't looking too good for my poor foot injury, but I don't want to talk about that because it makes me cry. A future without dancing will do that.) The Squeeze dug. In the light rain. He was sweating more than it was raining because it's so warm. The holes are great, though. And the dirt drains nicely. Anyways, we planted those suckers.
Now we need another grevillea. I did see something I liked: some sort of grevillea (or was it a narrow-leafed banksia?) which had dark purpley/marooney leaves. It was neat. I was thinking a couple of those with a bunch of knee-high purple grasses (which were just near by) would be wonderful. But I can never go past the grevillea. And I wasn't sure the purple one flowered – it didn't have a very useful tag. I did want to get something indigenous to this area, but, frankly, we're a bit short of accessible nurseries here. You have to have a car to really get sweet lowdown. I am going to check out the Marrickville markets some weekend soon – I need a cheaper source of plants. And I also want to stay away from the Bunnings type plants. I want something that's not force-grown in big green houses or big plantings. I want tough plants grown in some poppa's back yard in cheap pots. Something street-wise and rough.
Anyways, I'm going to get those natives happening down the front, in front of the main bedroom windows. The climber will climb up the railing on the front steps (but I'll clip it to stop it getting onto the top rail). I'd really like to plant up the grass down there with some taller native grasses, but I don't think our land lord would like that. I'm also thinking about veggies and herbs again. I just can't live without my herb garden any longer. And this weather is so plant-perfect. We'll see.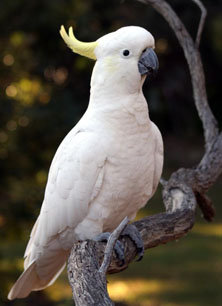 – Today we saw something awesome. As we were digging in the garden (well, The Squeeze was the one actually digging – I was standing under an umbrella in his crocs supervising and carrying the watering can) a bunch of rowdy cockatoos landed on the facade of the olden days flats on the opposite corner. There were about six or eight of them and they were obviously feeling their oats. Feeling all charged up by the cool and wet (after a little research, I've discovered they like to flap about in the rain to bathe themselves). They clambered about on the front of the building shouting for a while. Then they flew over to the olden days garage on the other corner. That's when things got good. They're such big, flamboyant birds. All yellow combs and huge white wings. They were very loud and social and clambered about all over the place, using their beaks and claws to get about. They were also digging about in the cracks of the buildings and the power pole. They spent some time pulling the power pole to bits (literally – they pulled great chunks off the top and threw them on the road) and shouting. Then they started pulling bits off the garage's facade.
They started just digging in the cracks and pulling off bits of plaster. Then they started pulling bricks out of the facade. Real bricks. The big chunks of masonry and plaster and brick fell down with big crashes and the cockatoos shouted and laughed and called across to each other. They were spread out all over the facade and the power lines and power poles, upside down, ride side up, combs up, wings out. It was awesome. Eventually the guy in the flat above the garage stuck his head out the window to see what was going on. The cockatoos kind of sneered and shouted at him and carried on. Until one pulled a massive brick out of the wall and nearly dropped it on another who was trying to pull the window awning off. Then they got a scare and had a shout at each other, then flapped up to the power pole. And then down the street. It was like a rowdy bunch of… large, rowdy birds… were moving their way down the street, shouting and talking and pulling shit to bits. It was fully sick. I didn't think to take a photo til far too late. So just take my word for it, ok?
It's nice to live in a city with lots of native trees and plants, and, consequently, lots of native birds. Unlike noxious-weed-Melbourne, which is chock full of stupid introduced plants.
– Today we rode up the bike route to a little cafe in Dulwich Hill. It was full of skanky yuppies. The food was ok. Then we decided to ride on to the Bunnings in Ashfield via Harbourfield. I got burnt. We both got freakin' hot. We rode back from Ashfied. We are badarse.
Yesterday we went in on the train to Town Hall station to collect The Squeeze's bike from his office. Then we rode across Piermont Bridge, down the side of Darling Harbour. We spent some time looking at a ship. That was neat, but not as neat as the books in Piratica. They're the best because they're pirate ships. Captained by women.
Then we rode along the beach, looking at yuppy warehouses flats. They were boring. We rode past the park where they were having Jazz On The River. The grass was all brown, crackly sticks.
Then we rode on to the Fish Market. The market was hot and crowded and The Squeeze didn't like it. So I foraged some sushimi, prawns and octopus. Then we rode on.
We were pretty freakin' hot by then, and I was feeling weak, so we caught the light rail (which is just like a kind of piss-weak tram, but with REAL conductors (so you have to buy tickets) and which you can TAKE YOUR BIKES ON !!1!). That was a nice, short trip to Lillyfield.
From Lilyfield station we rode up the hill across Paramatta Road, then up a little hill and taking a right turn at a little cafe (which was called something like Lily and Somebody or something. It had its name written in white in 'American Typewriter' font on the window and was closed). Then we rode along the bike lanes to an old building which looked a bit like an old train station or some sort of feed station (a sort of Victorian loading or despatch dock).
Then we kept on riding along the ridge til we got to… um… a park.
Then we turned left on a road which had no cars at all.
Then we… rode a bit. Then we went down the Hewson Canal bike path, which is very nice and shady, but made me think 'don't ride here by yourself ever, ladies.' We saw no one on that very nice bike path but three tiny little girls with bright white hair and one giant, bald dad.
Then we rode on and up til we got to the road that goes under a bridge – the end of Marion Street (which I think of as the road near the corner where I nearly stacked it on our first Big Ride).
Then we continued on and got onto another bike path past a giant dog park with about a squillion dogs roaming about.
Then we rode on to the bike path that runs along the canal that goes into the ocean.
Then we rode on. I can't remember what happened there, but we ended up coming out on Old Canterbury Road at that weird stop sign. Then up Old Canterbury Road to Dulwich Hill. I was especially badarse on that last bit.
Basically, I am badarse because I'm not scared of hills any more. The Squeeze is badarse because he rides his one-gear bike very slowly, just behind me (but not too close or he gets yelled at). Going slow is harder than going fast.