In a fit of frivolity the other week I picked up this bundle of four Mora's Modern Rhythmists/Swingtet CDs:
These guys are from the US and specialise in creating 'authentic' recreations of 20s, 30s and 40s dance music (mostly 20s and 30s, really). I'm a big fan. I already had Call of the Freaks and 20th Century Closet, but this 4-pack was too good to pass up (and I've already found someone who wants the doubled up copy of 20th Century Closet, which is (in my opinion), the best). As I said, I really like this group – they're recreating music I really like, which means I have nice quality versions of good songs for playing to crowds who aren't really comfortable with serious scratch. These better quality versions are also a nice way of changing the vibe or lifting the energy in a set without moving away from this nice musical period.
Their latest CD Devil's Serenade reminds me of the Melbourne band The Red Hot Rhythmakers (which we've featured at MLX a few years in a row now) – earlier dance band stuff. Hot and seriously fun.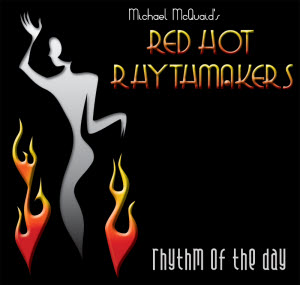 The Rhythmakers are a good example of the music that's quite cool with some of the younger American dancers atm, especially in places like Seattle. It tends to the super fast and is really quite freakin' good fun. The Rhythmakers have just realised their new CD, actually (the launch was this past Monday). Though I couldn't make the launch, friends have managed to secure copies of the CD for me, which is also very neat. I really like their first one and am looking forward to this one.
Any how, I'm very happy with these Mora CDs – it was a bargain and this stuff is very useful for DJing, even if though I tend to prefer the 'originals' for home listening. These guys are also useful for performances – good quality but also 'authentic' and not bullshit neo rubbish.