Remember this fuzzer?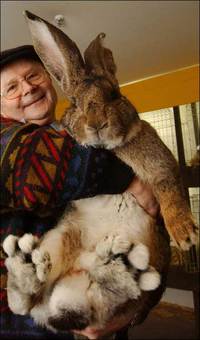 Apparently he's become a bit of an international celebrity. The breeder, not the bunny.
An east German pensioner who breeds rabbits the size of dogs has been asked by North Korea to help set up a big bunny farm to alleviate food shortages in the communist country. Now journalists and rabbit gourmets from around the world are thumping at his door.
Read the entire article here.
I can't imagine an 8 kilo bunny. That's fricking HUGE.