Today we actually did something other than watch telly, shop or eat.
I woke up really sore and achey from sitting on the couch, watching telly and eating (and sleeping in a terrible bed), and decided we needed to go for a proper walk to work our muscles. After a bit of discussion, The Squeeze decided we would walk over the Derwent Bridge.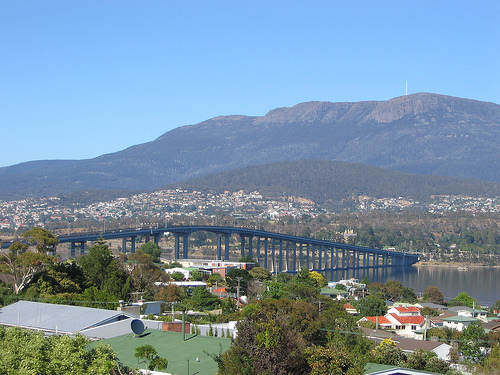 At first he declared that we would walk to the bridge (about a kilometer and a half, or maybe two kilometers), then over it and on to the cenotaph. But we eventually decided to drive so that we could get a bit further than the cenotaph – into Salamanca as well.
We drove to the bottom of the bridge on our side (which is the east side), and carefully planned to walk up the left side of the bridge. The Squeeze estimated a couple of hours there and back, but we actually made it across the bridge in only twenty minutes (it's only one and a half kilometers wide, though it looks far bigger). Ten minutes up I realised neither of us had brought a camera, but that was ok. I also realised that neither of us has hats, nor had I worn a shirt with sleeves (and I'm still recovering from an inadvertant roasting I gave myself last week riding to the city in a singlet). So I put on a jumper to cover my shoulders.
The bridge, though it looks quite steep, doesn't feel it when you're walking. But the footpath is actually quite narrow, so we had to press ourselves against the railing to let the occasional cyclist past (we saw about four in our twenty minute ride). The Squeeze and I spent most of the walk discussing whether we could ride over the bridge to work every day (yes from The Squeeze, who rides 10k to work every day and is currently made of iron, and maybe from me who is very competitive and hates being left out, but is more aluminum (foil) than iron these days), ogling the amazing view up and down the Derwent (it really is the most beautiful river valley – Hobart is the most beautiful city in Australia, I think, though Sydney's harbour does trump it), pointing at jelly fish and shouting. I discovered that no one can hear you on the busy bridge, and that a good bit of shouted singing when combined with endorphines makes you feel really nice.
Twenty minutes later, we negotiate the underpass and start the hike into town to the cenotaph. This took us about twenty, twenty five minutes (it was only another kilometer and a half), but was a bit sunny and bright. There's a bike path (called the intercity bike path because it links all the 'cities' on that side of the river – Hobart, Glenorchy, etc – separate city councils) which runs along the river below the main road which is kind of interesting. Well, not really, but we did see a seagull … If you call the place where rooks roost a rookery, would you call the place where seagulls roost a gullery? A gallery? ahahahahah. Anyway, they roost all along the train line there (which had resulted in a number of fatalities), and we saw many teeny fluffy seagull chicks. And were scared by a few aggressive seagull parents.
When we reached the cenotaph we decided (after a little negotiation, and some pleading on my part) to hire bikes and ride into Salamanca, and perhaps on to Jackman and McRoss in Battery Point. We did begin with a tandem, but decided (after a few minor stacks and unpleasant jabs in the arse) to go, for the sake of our relationship and my groin, with two normal bikes instead. The Squeeze was disappointed, but it all turned out for the best.
We rode on into Salamanca (I had a lovely time on the bouncy, wide-tired suspensioned mountain bike – no worrying about popping tires or slipping on gravel here! But much leaping on and off curbs and other serious Stunt Work), and I discovered that riding uphill (egads – Battery Point!) on that bike with slightly soft tires after a week on my arse was a bit of a challenge. But we had nice pies and then nice cakes (and a frightening bill) and then rode back downhill (woo-hoo!) into Salamanca.
I have to say, there's nothing more wonderful than riding around a newly-emptied Christmas Eve Salamanca on a bouncy stunt bike. We zipped around and through traffic (they're afraid of bikes here – and we found the Hobartians far tamer and less frightening than the Brunswick drivers), zoomed through the docks looking for the seal again (no luck) and then back to the cenotaph to return our bikes. About another three or four kilometers round trip.
And then back across the bridge through a bit of light rain, into the car and back up to Rose Bay.
Where we said hello to the ps, then went downstairs, took off an item of clothing or two, lay down and fell asleep immediately. Three hours later we awoke, consumed another lovely salmon dinner and embarked on the second round of mince tarts and a spot of tree decoration (we always do the tree christmas eve in our family). The father declared that we would watch all of the Star Trek films in celebration of the birth of our lord and saviour, and the tree decoration has consequently been interrupted by moments spent admiring William Shatner's divine brilliance.
I have quite a few more photos to blog, but I'm being told to come and fiddle with ornaments.