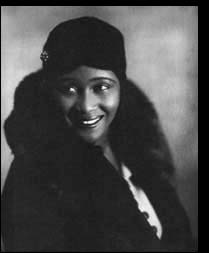 I've recently come across some Victoria Spivey songs quite by accident. I have quite a few by her, but mostly bits and pieces from various compilations. I haven't put any effort into collecting her, in part because my resources are limited and in the other part because my attention was caught by Bessie Smith. I also tend to prioritise 'songs for lindy hopping' in my purchasing.
I came across some Spivey songs in a Henry Red Allen JSP (I think) set from emusic. It's also on one of the Complete Jazz Series, and I think the latter versions are slightly better quality. On both it was just labelled 'Henry Red Allen and his orch' I think. I found the additional details in the discography at the library. Listed under Victoria Spivey, she did quite a few sessions in New York 1928 with Clarence Williams etc, and then in 1929 she did some stuff in New York again with some really big guns. Below are the discographic details for the sessions that caught my interest:
Victoria Spivey
[S10354] Victoria Spivey (vcl) acc by Louis Armstrong (tp) Fred Robinson (tb) Jimmy Strong (ts) Gene Anderson (p) Mancy Cara (bj) Zutty Singleton (d)
New York, July 10 1929
40252-C Funny feathers
Okeh 8713, Swag (Aus) 1267, 1310, Col C3L-33, Odeon (F)7MOE-2250, Par (E)PMC7144, CBS (F)65421, (Jap)SL-1209/10/11
402526-A How do you do it that way?
Okeh 8713, Swag (Aus) 1267, S1310, Odeon (F)7MOE-2250, Par (E)PMC7144, CBS (F)65421, Spivey LP2001, Jass 5, Biograph BLP C5, Book of the Month Club 21-6547
[there are details about where these songs were published]
[S10355] Victoria Spivey (vcl) acc by Henry "Red Allen" (tp) J.C. Higginbotham (tb) Charlie Holmes (sop) Teddy Hill (ts-1) Luis Russell (p) Wil Johnson (g) Pops Foster (b,tu-2)
New York, October 1, 1929
56732-1 Bloodhound blues (1)
[with recording details I can't be arsed typing out]
56733-2 Dirty T.B. Blues (1)
56734-1 Moaning the blues (1)
56735-1 Telephoning the blues
[there are details about where these songs were published]
When you go to the Henry Red Allen entry, you find him in New York in the same months (July and October of 1929) recording with mostly the same musicians. Luis Russell is the one that catches my eye, mostly because he's (one of) the connections between Allen and Armstrong, leading a band which starred both of them at some points in the 30s.
Here are the details of recordings from the Henry Red Allen entry:
[A1573] Henry Red Allen (tp,vcl) J.C. Higginbotham (tb) Albert Nicholas (cl) Charlie Holmes (sop, cl, as) Teddy Hill (ts, cl) Luis Russell (p, celeste) Wil Johnson (g, bj, vcl) Pops Foster (b) Paul Barbarin (d, vib), Victoria Spivey (vcl) and the Four Wanderers (vcl quartet) added: Herman Hughes, Charlie Clinscales, (tenor), Maceo Johnson (bariton) Olivier Childs (bass)
New York, September 24, 1929
55852-1 Make a country bird fly wild (tfw vcl)
[with recording details I can't be arsed typing out]
55852-2 Make a country bird fly wild (tfw vcl)
55853-1 Funny feathers blues (vs vcl)
55853-2 Funny feathers blues (vs vcl)
55854-1 How do they do it that way (vs vcl)
55855-1 Pleasin' Paul
55855-2 Pleasin' Paul
[there are details about where these songs were published]
I think the sessions under Spivey's own name were the best for blues dancing, though really it's a matter of taste.
FYI, if you're trying to find all the recordings by a particular musician, you use the Musician's Index (if you're using the books rather than the online or CD Rom version of the discography) to find all the page and recording session details for each song featuring that musician. When you're looking at someone like Louis Armstrong, that can get tedious very quickly. In his case, there're whole books devoted just to his discographies. But people like Henry Red Allen (and Eddie Condon) tend to ramble across dozens and dozens of bands and hundreds of individual songs. You tend to get a feel for a particular musician, and you realise that they played in a whole range of bands in a particular city at any particular time. This gets really interesting, particularly when they're using pseudonyms to escape restrictive recording contracts with particular labels.
Just looking up 'Henry Red Allen', for example, won't get you all his recordings. But it will get you the recordings which are credited to him, or recorded by bands with his name attached (eg Henry Red Allen and his Orchestra). This sort of attribution gets interesting when you look at artists like Spivey, who had some of the biggest names in jazz listed as her accompanists.
You can see how I get interested in the relationship between blues and 'jazz' or 'swing' when I'm doing this digging in the discographies. Surely accompanying these singers (and they were accompanying, particularly when it came to people like Bessie Smith) influenced their music in significant ways. And these big names in jazz influenced other musicians – particularly when we're talking about people like Louis Armstrong or Allen.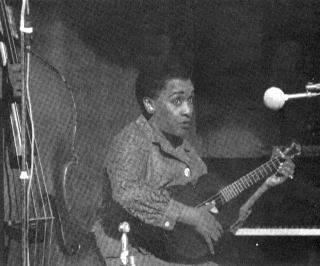 Spivey is interesting because she was not only a seriously famous singer in the 20s, she also managed to survive the declining popularity of blues at the end of the 20s. She did interesting things like play in the Hellzapoppin' stage review (not the film, lindy hoppers, the stage review from which material for the film was drawn) and found her own record company, Spivey Records in the 60s. It was with this label that she recorded Bob Dylan as an accompanist.
I'm fascinated by the idea that you can chart the relationships between musicians in a particular city by using the discographies. All you have to go on is the city, date, song title and musicians. Which is a surprisingly useful amount of information. My attention is caught by the names which turn up all over the place, in all sorts of bands. Zutty Singleton. Paul Barbarin. Buster Bailey. Peanuts Hucko. People I didn't know before I started looking through the discographies. Now I find that following these guys through the Chronological Classics or Complete Jazz Series gives me an overview of a particular city or style during a certain time frame. So if I follow Zutty Singleton through a particular year on CD, I'll hear a range of bands. And I can speculate about the professional relationships between bands and the way creative ideas spread between bands.
Of course, all this information is really only dealing with recorded performances. Though this does include a massive amount of recorded broadcasts and live performances (particularly in the 1930s), we're really only looking at formal recording sessions in the 20s. I always wonder what went on around these sessions. Who did they meet at the restaurant where they had dinner afterwards? Did they go for drinks with the band who'd been in there before? Who sat in on the following sessions to make up numbers or simply out of musical interest? Did these things even happen?
And of course I can't help but think about the race stuff going on. I notice things like particular bands having personnel with names of particular cultural backgrounds. German or European names in Benny Goodman's bands. Italian names in New Orleans bands. Anglicised names in Chicago. Certain names are more common in African American bands than in Anglo-American bands.
There are hardly any mixed-race recordings, so when they do pop up, my interest is immediately caught. And of course, when you get into the French recordings of artists like Bill Coleman, Coleman Hawkins, the remnants of Glenn Miller's band in 1945, you see familiar American names teaming up with French artists. Glenn Miller's former bandmates (Peanuts Hucko, Mel Powell, Joe Schulman, Ray McKinley) are joined by Django Reinhardt.
All this is super-interesting. And that's just the information you can gain from reading through the discographies. When you listen along with the discographies, tracing particular sessions and particular combinations of musicians, you can hear musical developments and experimentations expanding and changing an individual musician's style. Arrangers become much more important. Listening across bands (following a particular musician rather than a band), you hear similarities within a single year. And when you add to that the fact that many bands recorded the same songs in the same year, you hear each of these little moments in creative time explored within the framework of a single composition, arranged in countless ways, exploded by solos and improvisations.
When you think of the music that wasn't recorded, of all the live performances on stages and in back rooms and kitchens, you realise that music was not only everywhere, but that these were communities of musicians, complicated networks forged by the act of making music. And money.
And, finally, in all of this, if I do come across a female name anywhere other than in the vocals, I'm flabbergasted. This is a world of men. Or so you'd assume, if you relied only on the discographies. There were plenty of women in these pictures, just not dug into the grooves on the record. There were women playing and writing and recording music, women running offices, making dinners, washing clothes. It's just that you can't hear them on the records, unless you listen very closely.
Refs:
Lord Jazz Discography
This is an interesting piece about Henry Red Allen.
Red Hot Jazz.