Now I have a bit of time on my hands (and the inclination), I've been getting into the gardening a bit.
We have some very sad natives planted in the front garden, but I've a solution for their neglect. I take our empty juice bottles (the big two or three litre jobs), fill them with water then turn them upside down, necks dug into the ground near the plant. The water slowly seeps down and out, doing a neat slow-drip watering job. Ta-da! The plants have been a lot cheerier, even with this piss-weak bit of attention.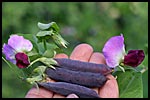 I've also had a chance to order some seeds from the wonderful Eden Seeds which arrived yesterday. It's not exactly the best time of year, but we've put some rocket in a planter and I'm going to have a look at a couple of peas tomorrow (Oregan something or other and purple podded peas). I can't believe I forgot to get beans… though they're not always that happy in the warmest weather.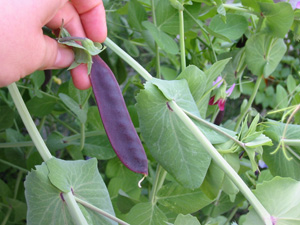 We love the purple beans/peas, even though The Squeeze can't really tell that they're purple. I love the way they have purple flowers and then such amazing purple pods. They're so lovely. That little picture up there is from the Eden Seeds catalogue, but this picture here is from our garden. That's my hand there.
I'm looking forward to this action.
There's also a range of purple beans which change colour when you cook them (to green) which I've had my eye on, but didn't chase up. They're called Magic Beans. (!)
Meanwhile our self-sowed (grr) cherry tomatos are taking over, crowding out the new lemon verbena plant I put in, and threatening the little baby purple chilli plant. The herbs I planted a while ago are going great guns, especially the lemon basil and the Vietnamese mint and flat leaf parsley. Usefully these are herbs we use quite often. Everything else is plodding along happily and the new yellow passionfruit vine is very happy in its big pot. Remind me to post photos of the insanely big purple passionfruit vine. It's starting throwing ripe fruit onto the concrete and I've already had almost enough passionfruit for the season. It's amazing shit, though. If you're in Melbourne, we should arrange a handover so they don't go to waste (we tend to give people bags of the things all season).