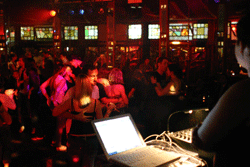 I also played a set at the Spiegeltent during MLX. It was very exciting – a well paid gig, where I finally had the chance to play kicking lindy hop songs for a kicking lindy hop crowd. I was also lucky enough to share the set with Trev (thank the goddess for his generousity – I'd never have made it through three and a half hours on my own that night).
So the set was a combination of 'crazy exchange lindy' (dancers at exchanges are notoriously? famously? infamously? enthusiastic and open minded about music (compared to when they're at home)), Trev-inspired old school lindy stuff (ie things I dig but don't get to play very often here in my regular gigs), stuff that's just plain old good fun and a few other odds and ends.
It was an interesting set because I had to move from the disco/funk they were playing on the house stereo (I loath nasty transitions), allow for the juggling performance (I regret not getting the energy up before his act so I could get the crowd in the mood), take into account the fact that many of the lindy hoppers would be tired from the previous gig where (for example) Trev DJed an awesome set – the Gangbusters bracket where his tempos averaged 180 – 200 bpm. That's frickin' fast. And it was frickin' fun. I also had to take into account the fact that there were lots of non-dancers jiggling about on the dance floor.
There are a few rules for DJing at the Spiegeltent (so I've noticed):
1. Saucy = bad idea. The punters just feel uncomfortable. The guys don't dance, the girls feel silly.
2. Food songs = fun. Kids love them. Adults love them.
3. Upenergy = go. It's a fun place, so the energy needs to be fun.
The below list is the set I played that night. I started off with some unswing to segue into my set, then played some 'necrophiliac blues' because I wasn't sure how to get to the main lindy hopping event and was kind of finding my groove (I'm also a bit out of practice). In retrospect, I should have gotten the bpms up higher earlier.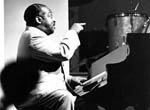 There were a few bits that I really liked – the shift from Shouting Blues (1949) by Basie to Ridin' on the L&N by Hamp (1946) to Vine Street Boogie (1941) by Jay McShann (extra meaningful in light of his recent death) was really pleasing. Basie has a kicking rhythm section, of course at the piano himself.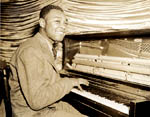 Ridin' on the L&N has a really chunking piano/base/percussion section (of course – this is Hamp), but it really sounds like a train chunking along the track. The vocals (with funny 'uh-oh, is that a train at the other end of the tunnel?' stories) are typically Hamp-humour. And of course, the McShann boogiewoogie (slower than uberboogie, but with a nice chunker piano sound) brings us back to Kansas (where Basie got his first go), and had that nice, heavy base feeling, but with the lighter, move-yo-feet! feel that I really like.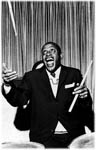 I'm a bit over Lavender Coffin, the 'gospel' track which followed, but it had the right funny-dark-humour feel I like. The Witherspoon track was a bit of a stylistic jump (to a bit of hi-fi, power-groove), but it seemed appropriate, as Witherspoon (most sexist man alive dead) got his start with McShann. It's also a great energy upper, and I thought that we'd gotten a bit low-tempo there with those other songs.
I quite like playing that version of A Smo-o-oth One by Cab Calloway because it has no vocals and people always ask me who it's by. The most common version of that song is one by Benny Goodman (1941) which sits on 126bpm, is nice, but kind of draggy. There's also a version by Junior Mance (not sure of the year, sorry), which is 125bpm and a big groover song – meaning, kind of dull. I like the Calloway version (181bpm, again I'm not sure of the year, sorry – stupid compilations) because it's great fun for dancing and pretty punchy.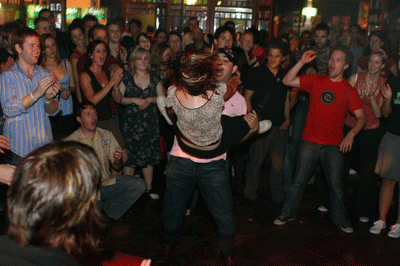 Overall, I was happy with the set, especially with the fact that I played my first 'jam' – Jumpin' at the Woodside. The energy just felt high and good, and I just wanted to hear that song. The generally higher tempos feel of the night generally (and Trev's influence) helped me take the risk. And of course, I should have realised that such an iconic track would get the kids jammin'. I deliberately chose the later era Basie recording (1960), from The Count Basie Story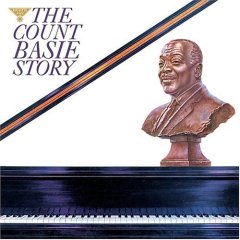 (where he re-recorded the seminal hits from his earlier band with his 'new testament' (and arguably better) late testament band) because the quality is sweet. The song before was hi-fi, and I thought a nice, clear hi-fi recording would work best in this situation.
Unfortunately, the base-controlling thingy on the sound desk (which automatically cuts in when the base gets too high, lowers the volume, then slowly lets it back up over a few seconds) cut in near the end and the volume was crappily low. But it meant that I could just move from that to a new, non-jam song without flogging a dead horse. It was a really fun jam, actually, and The Squeeze caught a few amazing photos.
So here's the set list:
(title-artist-bpm-year-album)
Think-Aretha Franklin-109-Greatest Hits – Disc 1
Please Please Please-James Brown-74-1991-Sex Machine
Hamp's Salty Blues-Lionel Hampton and His Quartet-86-1946-Lionel Hampton Story 3: Hey! Ba-Ba-Re-Bop
Amtrak Blues-Alberta Hunter-95-1978-Amtrak Blues
Why Don't You Right-Jonathan Stout And His Campus Five Featuring Hilary Alexander-118-2004
St. James Infirmary-Hot Lips Page and his Orchestra-122-1949-Jump For Joy!
Minnie The Moocher-Cab Calloway and His Orchestra-112-1931-The Early Years 1930-1934 Disc A
Every Day I Have The Blues-Count Basie-116-1959-Breakfast Dance And Barbecue
Drinkin' Wine Spo-Dee-O-Dee-Lionel Hampton and His Orchestra-130-1949-Lionel Hampton Story 4: Midnight Sun
Flying Home-Lionel Hampton and His Orchestra-159-1940-Tempo And Swing
Good Queen Bess-Duke Ellington-160-1940-The Duke Ellington Centennial Edition: Complete RCA Victor Recordings (disc 10)
Stomp It Off-Jimmie Lunceford and His Orchestra-190-1934-Swingsation – Jimmie Lunceford
Squatty Roo-Duke Ellington-202-1941-The Duke Ellington Centennial Edition: Complete RCA Victor Recordings (disc 12)
A Viper's Moan-Willie Bryant And His Orchestra-153 -Willie Bryant 1935-1936
A Smo-o-oth One-Cab Calloway-181-2000-Jungle King
For Dancers Only-Jimmie Lunceford and His Orchestra-154-1937-Swingsation – Jimmie Lunceford
Shoutin' Blues-Count Basie and His Orchestra-148-1949-Kansas City Powerhouse
Ridin' On The L&N-Lionel Hampton and His Quartet-170-1946-Lionel Hampton Story 3: Hey! Ba-Ba-Re-Bop
Vine Street Boogie-Jay McShann and His Orchestra-153-1941-Jumpin' The Blues (Disc 1)
Lavender Coffin -Lionel Hampton, etc-138-1949-Lionel Hampton Story 4: Midnight Sun
Good Rockin' Tonight-Jimmy Witherspoon-155-1998-Jazz Me Blues: the Best of Jimmy Witherspoon
Jumpin' At The Woodside-Count Basie and His Orchestra-278-1960-The Count Basie Story (Disc 1)
Sent For You Yesterday-Count Basie and His Orchestra with Joe Williams-163-1960-The Count Basie Story (Disc 2)
Apollo Jump-Lucky Millinder-143-Apollo Jump
Savoy Blues-Kid Ory-134-2002-Golden Greats: Greatest Dixieland Jazz Disc 3
Are You Hep To The Jive?-Cab Calloway-160-1994-Are You Hep To The Jive?
…I have to admit. I did play that bluesier stuff hoping to see a couple of the prissy lindy purists dance de olden dayes blues dancing. Ain't nothing finer than the power of the Pad o Plastic. I really feel that you can't dance lindy with any sort of serious cred if don't also know the blues with your body as well – the sort of blues that was getting around at the same time as this uptempo 'lindy' music.
And some lindy hoppers are just so precious.